This tutorial summarizes how to zoom in your laptop screen using the Magnifier App on Windows 10. For the video tutorial, go to the bottom of the page to watch extra tips on how to use the zoom feature.
About Windows Magnifier App
The Magnifier App in Windows 10 allows you to zoom in your computer screen. It is useful if you want to examine details of graphics and highlight elements of your screen during presentations. Plus, this zoom feature is great for drawing attention to specific elements to your screen recordings for YouTube.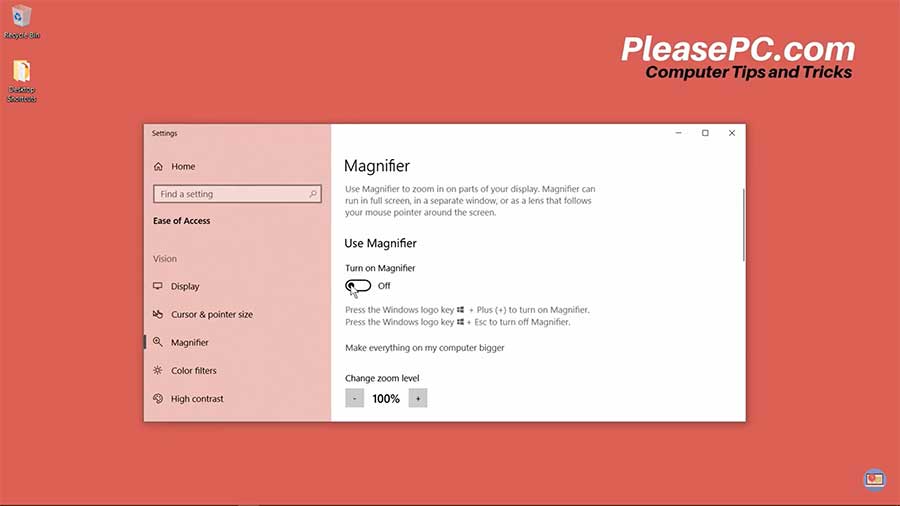 Tutorial: How to Zoom in Laptop Screen
To zoom in your screen, first, you need to access the Magnifier App in Windows. The easiest way to find the app on your machine is to do a quick search. Follow the step-by-step guidelines below.
Go to the Windows taskbar and do a search for the Magnifier App.
In the search field, type in "magnifier" or "zoom" to find the app.
When the Magnifier App appears in the search, click the app to open it.
In the window that opens, toggle ON the Magnifier.
The Magnifier control panel will appear.
Use the "-" and "+" signs to zoom in and out.
You can also press the Windows key with "-" or "+" on the keyboard.
To close the Magnifier App, simply close the app window.
Additional Features
The Magnifier App has three different viewing options:
The Full screen option is the default setting. However, you can select the alternative zoom options in the "Views" menu of the Magnifier App window.
Next, the Lens option acts like a magnifying glass and lets you zoom in to a specific location on your screen.
Lastly, the Docked option splits your screen into two horizontal rows. Using this setting, the top row is zoomed in and the bottom row shows the regular view of the screen.
Remember to utilize all of these zoom features in the Magnifier App. It is an excellent tool for enhancing your presentations and screen recordings.
Watch the Video Tutorial on YouTube
Feedback: Questions and Comments on YouTube
Do you have any questions or comments about how to zoom in your laptop screen?
Please leave your feedback on YouTube after watching the video tutorial on How to Zoom in Laptop Screen.
Related Posts
More Computer Tutorials on Please PC