This quick tutorial explains how to enable Bluetooth on Windows 10. For the video tutorial, scroll down to the bottom of the page.
About Bluetooth
Bluetooth is wireless technology that allows you to exchange data between stationary and mobile devices. It was originally developed for connecting wireless headsets, but now the technology is used for pairing numerous devices.
For instance, Bluetooth on Windows 10 allows you to connect to headphones, speakers, keyboards, printers, and more. Therefore, enabling Bluetooth on your PC is required if you want to connect your wireless devices.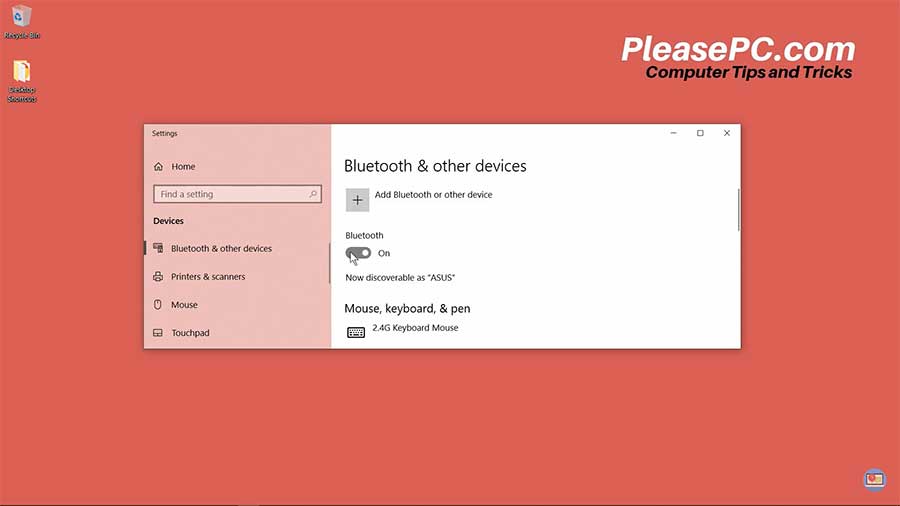 Tutorial: How to Enable Bluetooth on Windows 10
You can find the Bluetooth settings in Windows 10 by doing a simple search via the Windows taskbar. Follow the steps below to access the settings.
Go to the bottom left of your taskbar to perform the search.
Do a search for Bluetooth.
In the search results, you will see the Bluetooth and other device settings appear.
Click it to launch the Bluetooth settings window.
In the settings window, toggle the Bluetooth to ON.
Now your computer is ready to connect your Bluetooth devices.
In sum, you can follow these six simple steps to activate Bluetooth on your machine.
Pairing Bluetooth Devices
Remember to turn on your Bluetooth devices so that they can be discovered by your PC. All of your accessible hardware will appear in the Bluetooth and other devices window. To connect them, click on the corresponding icons to pair them to your computer.
Watch the Video Tutorial on YouTube
Feedback: Questions and Comments on YouTube
Do you have any questions or comments about how to enable Bluetooth on Windows?
Please leave your feedback on YouTube after watching the video tutorial on How to Enable Bluetooth on Windows 10.
Related Posts
More Computer Tutorials on Please PC