This simple step-by-step tutorial describes how to hide the taskbar in Windows 10. You can also watch the video tutorial at the bottom of the page which will help clarify how to do it.
About Windows Taskbar
The taskbar in Windows lets you quickly access applications on your PC. However, sometimes it is useful to hide the taskbar to maximize the space on your screen. Plus, hiding the taskbar still allows you to access it easily enough.
Continue reading below to learn how to hide the taskbar on your computer.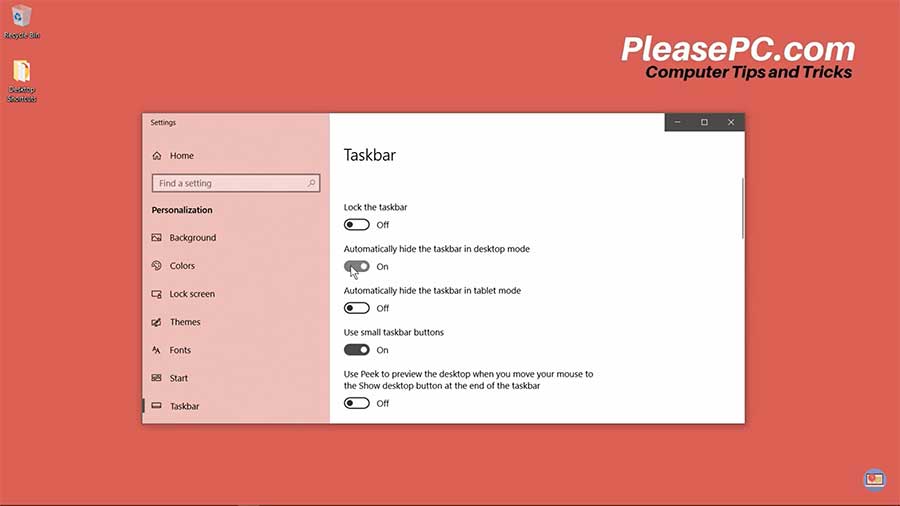 Tutorial: How to Hide Taskbar in Windows 10
Hiding the Windows taskbar can be achieved by following a few simple steps.
Move your mouse down to the taskbar and right-click.
In the menu that appears, select the Taskbar settings at the bottom of the menu.
Toggle ON the switch that says to automatically hide the taskbar in desktop mode.
Then, you will see your taskbar slide down and disappear.
Close the window.
The taskbar will now be hidden to give you more screen space.
If you want to access your taskbar, simply move your mouse to the bottom edge of your screen. The taskbar will slide upwards when your mouse hovers over the taskbar location.
Many Windows users like to hide their taskbar since it frees up their screen real estate. Plus, it helps maximize workflow. Try hiding your taskbar and see how you like it. Nevertheless, if prefer to unhid the taskbar, return to the display settings control panel. Then, simply switch the toggle back to OFF.
Watch the Video Tutorial on YouTube
Feedback: Questions and Comments on YouTube
Do you have any questions or comments about how to hide the taskbar in Windows 10?
Please leave your feedback on YouTube after watching the video tutorial on How to Hide Taskbar in Windows 10.
Related Posts
More Computer Tutorials on Please PC