Do you know how to do a word count in Word Documents?
If not, you have come to the right place! This tutorial will show you how to find out how many words there are in your Word Doc. It only takes a few steps. To learn more, simply follow the guidelines outlined below.
About Word Docs
Microsoft Word and Google Docs have been two of the most popular word processors over the past decade. Word counts in both programs are easy to do. You can access the word count information from the top menus. For more detail, read the steps in the tutorial and then watch the video at the bottom of the page for clarification.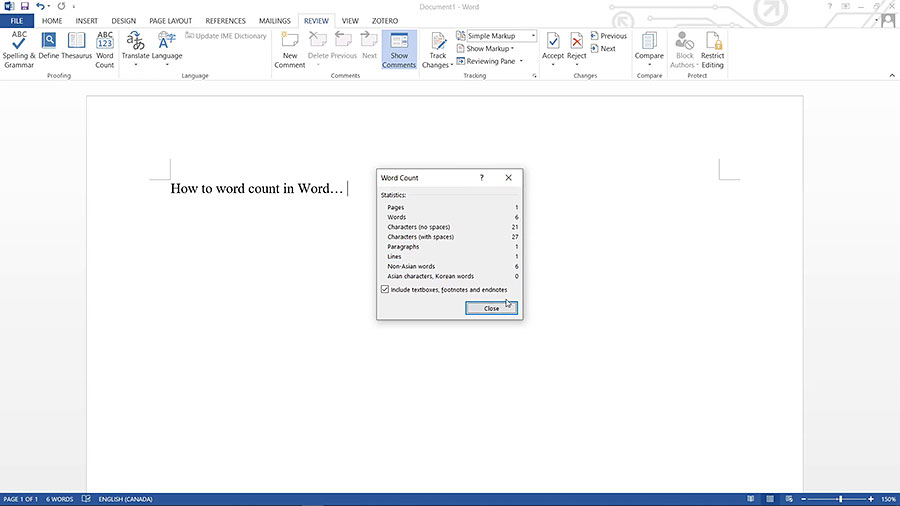 Tutorial: How to Do a Word Count in Word Documents
To begin, open your Word doc and look at the top menu options.
Go to the REVIEW tab at the top.
Click the Word Count icon located on the left (between the Thesaurus and Translate icons).
The word count information menu will be displayed in the middle of your screen.
View the number of words in the list of statistics on the right column.
As an option, you can check the box at the bottom to include textboxes, footnotes, and endnotes in the word count.
The statistics window also counts the number of pages, characters, paragraphs, lines, and more.
You can close the window when you are finished.
For more information about doing word counts, watch the YouTube tutorial below.
Watch the Video Tutorial on YouTube
Feedback: Questions and Comments on YouTube
Do you have any questions or comments about how to do a word count in Word Documents?
Please leave your feedback on YouTube after watching the video tutorial on How to Word Count in Word Documents.
Related Posts
More Computer Tutorials on Please PC