In this tutorial, you will learn how to add page numbers in Word documents.
Most versions of Microsoft Word have similar layouts. Therefore, you will be able to follow the easy steps outlined in this tutorial no matter which version of Word you have installed on your computer.
About Page Numbers in Word
Page numbers in Microsoft Word can easily be added to either the header or the footer of your pages.
Read the step-by-step guidelines to learn how to do it. Also, check out the video at the bottom of the page for a visual tutorial.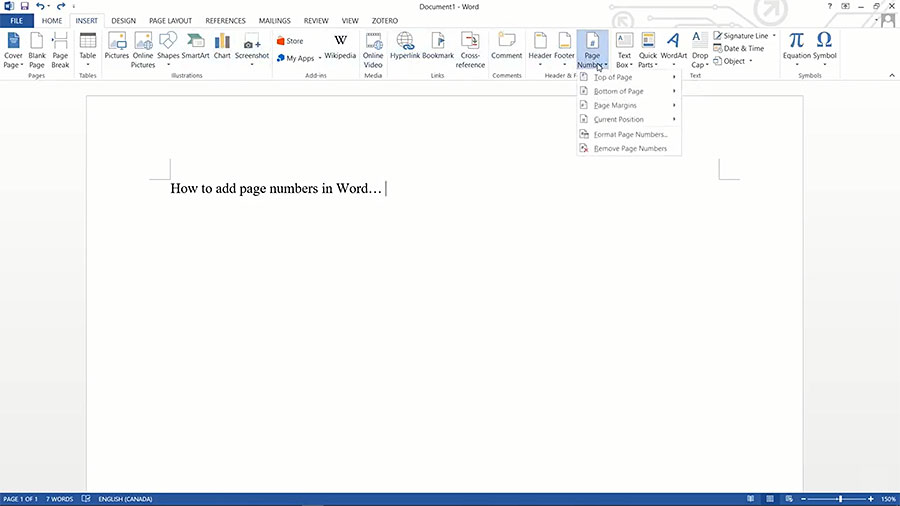 Tutorial: How to Add Page Numbers in Word Documents
To add page numbers, open up your Word document. After opening your doc, follow these simple steps:
Go to the top menus and select the INSERT tab.
Next, go to the Page Number icon.
Select your preferred page number format from the drop-down menu.
Then, your cursor will appear in either the header or footer section next to the page number.
Select your desired font and font size for the page number.
Finally, if you scroll down the pages, you will now see that all of the page numbers have been added automatically.
To edit the body text or your document again, simply click on the body section of the page. Note, you can always return to the header or footer by clicking on those portions of the page at any time.
For further clarification on how to add page numbers, view the embedded YouTube tutorial.
Watch the Video Tutorial on YouTube
Feedback: Questions and Comments on YouTube
Do you have any questions or comments about how to how to add page numbers in Word documents?
Please leave your feedback on YouTube after watching the video tutorial on How to Add Page Numbers in Word Documents.

Related Posts
More Computer Tutorials on Please PC