In this quick tutorial, you will learn how to go to Incognito Mode in Chrome and browse the web privately.
First, we will highlight the advantages of private browsing and why you should use Incognito Mode in Chrome (or private mode in other web browsers). Then, at the end of this tutorial, you can view the YouTube tutorial on the same subject to reinforce the main concepts outlined on this page.
About Private Browsing and Incognito Mode
Why should you use private browsing settings on your web browser?
At times, you may want to limit the sites that appear on your browsing history.
Also, if you are a web developer, it is a good way to make sure you aren't using any files that are in your browser cache. This way, by using Incognito Mode in Chrome, you know that the page you are viewing is the latest version and not a saved version on your hard drive.
Furthermore, Incognito Mode makes sure that you aren't using cookies for an added layer of privacy protection. Plus, this setting allows you to sign in to multiple accounts.
Now let's outline the steps to private your browser and use Incognito Mode in Chrome.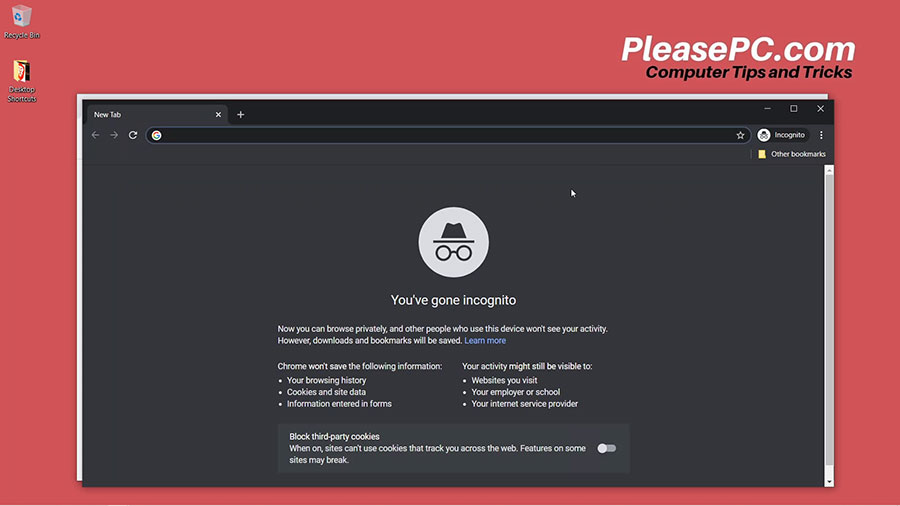 Tutorial: How to Private Browser and Go Incognito Mode in Chrome
To begin, make sure that you have Google Chrome launched on your computer. Follow the quick guidelines below to complete the task.
In your Chrome browser, go to the top-right settings menu.
In the menu, select 'New incognito window' from the drop-down menu.
The new 'Incognito' Chrome window will appear in dark grey.
Use this new window to browse the web in Incognito Mode.
Another method for launching a new browser window in Incognito Mode is via keystroke combination. For instance, on a PC, simply push Ctrl+Shift+N and the new private browser window will appear instantly.
For more tips, watch the video tutorial below.
Watch the Video Tutorial on YouTube
Feedback: Questions and Comments on YouTube
Do you have any questions or comments about how to private your browser and use Incognito Mode?
Please leave your feedback on YouTube after watching the video tutorial on How to Private Browser and Go Incognito Mode in Chrome.
Related Posts
More Computer Tutorials on Please PC