In this free tutorial, you will learn how to Google Translate a website using the Chrome browser.
First, we will highlight some basic features of Google Translate. Then, you can follow along with the step-by-step tutorial on how to use it.
At the bottom of the page, you can watch the video tutorial for further clarification.
About Google Translate
Google Translate is a free translation service that translates single words, phrases, and entire websites. You can select the first language and choose from over 100 other languages to translate to. Access the app directly from the Google Translate website or install an extension on your web browser. In addition, you can use Google Translate on your phone, tablet, or other devices.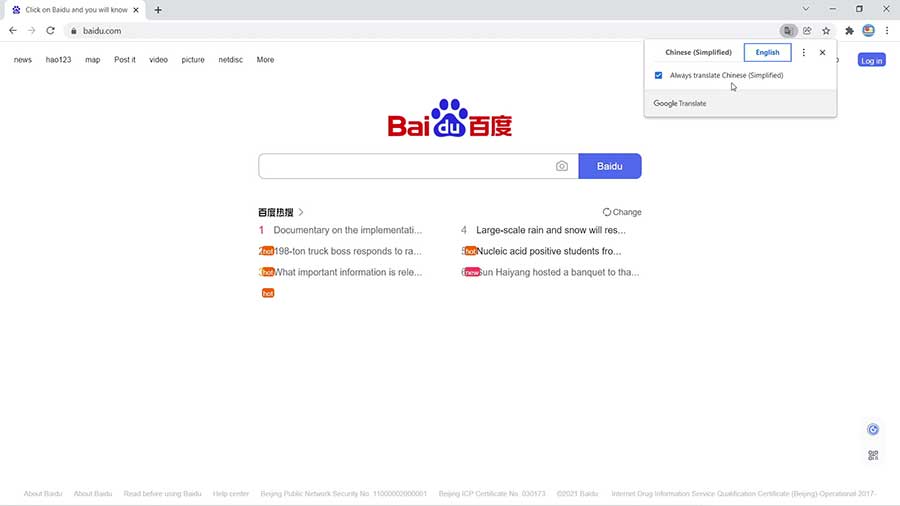 Tutorial: How to Google Translate a Website
Read the guidelines below to understand how you can easily translate a website with Google Translate.
First, open the Google Chrome web browser.
Go to any foreign language website that you would like to translate. In the video tutorial, we have used the Chinese site Baidu for the example.
Next, go to the translate icon at the top of the browser and click it.
From the menu that drops down, select "English".
Then, you will see that the entire website has been translated into English.
As an option, you may want to select "Always translate" from the menu. This way, everything will translate automatically without you having to click the icon every time. Simply click the translate button once, select "always translate" and browse through all foreign language websites in English.
Do you have any difficulties translating websites?
For more translation tips using Google Translate, watch the video tutorial below.
Watch the Video Tutorial on YouTube
Feedback: Questions and Comments on YouTube
Do you have any questions or comments about how to Google Translate something?
Please leave your feedback on YouTube after watching the video tutorial on How to Google Translate a Website.
Related Posts
More Computer Tutorials on Please PC