In this tutorial, you will learn how to clear the browser cache in Chrome.
Follow the simple steps outlined below. For further clarification on how to clear your browser cache, you can also watch the YouTube tutorial at the bottom of the page.
About Browser Caches
Your browser cache stores information from websites that you have visited in the past. This allows for faster load times when viewing the same web page again. However, you may want to empty your cache from time to time.
Occasionally, when a web page is updated, you could miss the updated version of the page because you are viewing the old cached version. Hence, clearing your browser cache will remove the old outdated content and refresh the page with the newest content.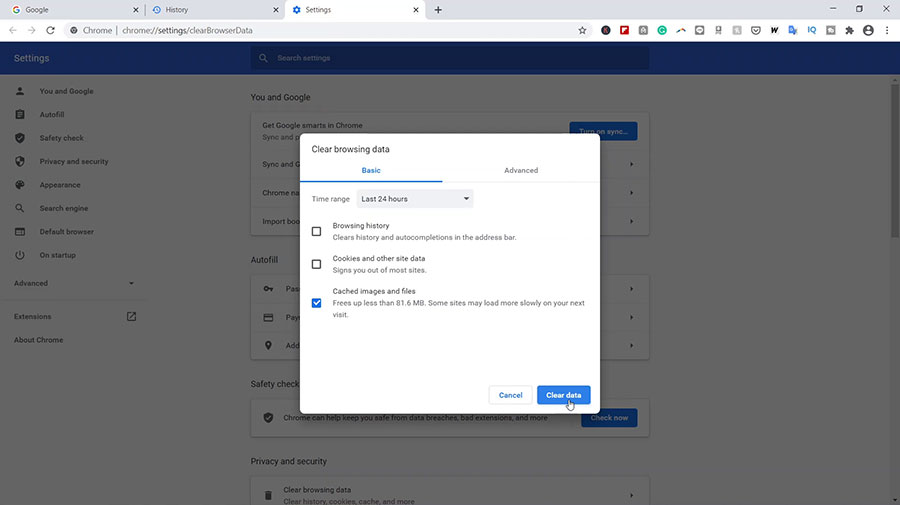 Tutorial: How to Clear Browser Cache in Chrome
Clearing your browser cache in Chrome can be achieved by following a few simple steps. To start, open the Chrome web browser then follow the guidelines below.
Go to the settings menu at the top-right corner of the browser.
Select History from the drop-down menu.
Select 'Clear browsing data' from the left column area.
In the Clear browsing data pop-up window, check the box for 'Cached images and files'.
Finally, click 'Clear data' and close the window.
After completing these steps, your browser cache will be successfully cleared.
Now, any website that you visit will display the newest content without being influenced by any old cached content.
For more tips on how to clear your cache, watch the YouTube video below.
Watch the Video Tutorial on YouTube
Feedback: Questions and Comments on YouTube
Do you have any questions or comments about how to clear your browser cache in Chrome?
Please leave your feedback on YouTube after watching the video tutorial on How to Clear Browser Cache in Chrome.
Related Posts
More Computer Tutorials on Please PC