In this tutorial, you will learn how to download iTunes on a PC.
After following this tutorial, you can install the application, and start using iTunes media on your Windows operating system. First, let's briefly highlight what can you do with iTunes on your PC.
About iTunes on PCs
The iTunes media player, developed by Apple, can be used to purchase media, play music, watch movies, and organize files on your computer. It was originally designed for Apple users, but you can also use it on your Windows operating system.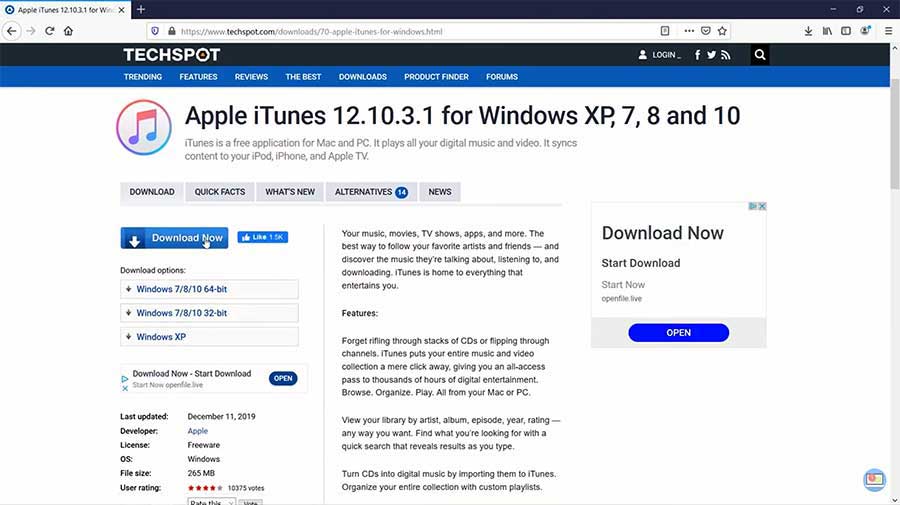 Tutorial: How to Download iTunes on a PC
The easiest way to download iTunes for your PC is from a software website, such as Techspot. Follow the simple steps below to understand how to do it.
Go to Google and search for "iTunes techspot".
Click the first link that appears in the search results.
When the Techspot website loads, it will bring you to the download page.
Next, click the blue Download Now button.
Several download options will appear from the drop-down menu.
Select your Windows operating system to download the correct version.
Depending on your connection speed, it should take a moment to download the software.
Finally, once the file has finished downloading, double click it.
The application will install on your system.
You can now use iTunes on your PC to play your media files.
Watch the Video Tutorial on YouTube
Feedback: Questions and Comments on YouTube
Do you have any questions or comments about how to download iTunes?
Please leave your feedback on YouTube after watching the video tutorial on How to Download iTunes on a PC.
Related Posts
More Computer Tutorials on Please PC