Does CCleaner make your computer faster?
Yes, it is certainly effective– as long as you follow some simple guidelines.

In this tutorial, you will learn how can use CCleaner to speed up your PC computer. This method is one of the quickest ways to speed up your laptop. Simply install the app, scan your computer, and you will notice a significant improvement in performance.
For extra tips on how to make your computer faster, watch the CCleaner tutorial video at the bottom of the page.
About CCleaner
CCleaner is a free open-source application for Windows. The free version provides some great features for optimizing your PC. Plus, you can upgrade to the CCleaner Pro for additional benefits, such as real-time monitoring, scheduled cleaning, premium support, and more.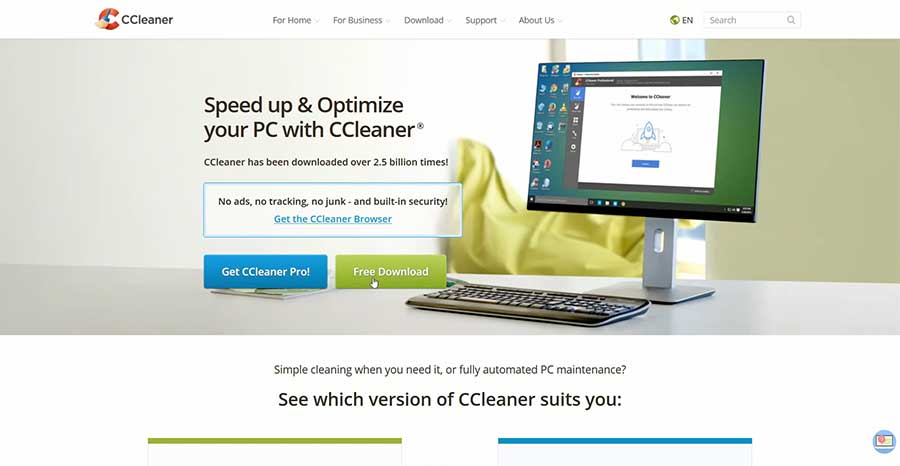 CCleaner Tutorial: How to Make the Computer Faster
Before you run CCleaner on your PC, go to the CCleaner website to download the app for free. Then, follow the simple guidelines provided below.
After installing CCleaner, go to your taskbar and search for the app on your PC.
Select and open CCleaner from the search results.
To do an Easy Clean, push the blue "Start" button when the app opens.
To run a Custom Clean, select "Custom Clean" from the left menu.
Check/select the Windows apps and Applications that you want to clean.
Click the blue "Run Cleaner" button.
After a few minutes, the scan will complete.
Finally, close CCleaner.
Your computer should now run noticeably faster after running CCleaner.
When selecting the applications to clean from the CCleaner menu, be aware of what you are cleaning. For example, you may or may not wish to clean your Internet Cache in all of the browsers. However, doing so will certainly clean up space and speed up your hard drive.
Lastly, remember that selecting "Wipe Free Space" could take a long time to do. Also, you may want to deselect "Desktop Shortcuts" if you wish to keep your shortcuts on your desktop.
Watch the Video Tutorial on YouTube
Feedback: Questions and Comments on YouTube
Do you have any questions or comments about how to make your computer faster?
Please leave your feedback on YouTube after watching the video tutorial on How to Make the Computer Faster with CCleaner.
More Computer Tutorials on Please PC
Click here to view more tutorials.