This quick tutorial explains how to open zip files on Windows with 7-Zip. Scroll down the page to read the step-by-step guidelines. There is also a video tutorial at the bottom of this article for a visual explanation.
About ZIP Files and 7-Zip
A ZIP file is a compressed file that typically includes an archived collection of many files in one.
For example, you may combine 5 files and compress them into 1 individual file. You could then email this file conveniently instead of sending the 5 files separately. Plus, "zipping" files saves space on your computer and lets you set passwords on your files for extra protection.
7-Zip is an open-source program that helps you compress files as ZIP files and other compression formats. Furthermore, the application has other useful features, such as file password protection and encryption.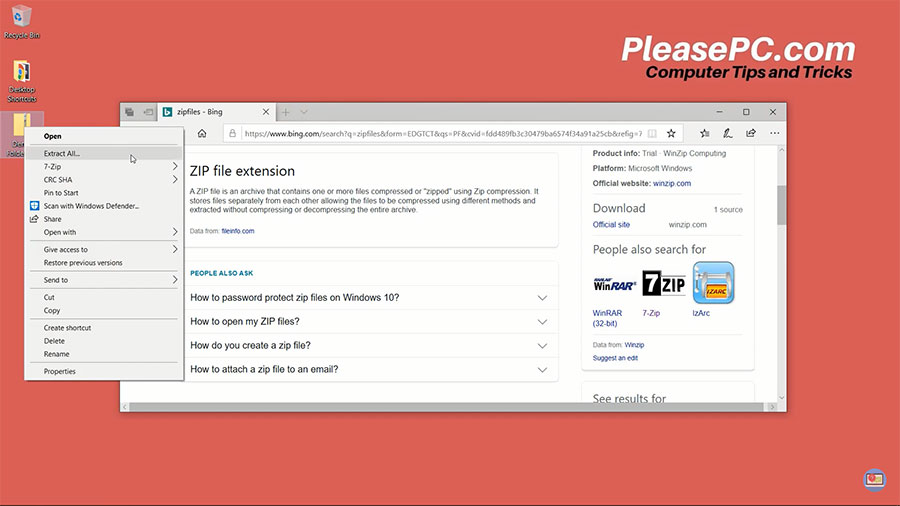 Tutorial: How to Open ZIP Files on Windows with 7-Zip
First, you need to have the 7-Zip application installed on your computer. To download the app, go to the 7-Zip website and choose either the 32-bit or 64-bit version. Then, follow the guidelines below.
Locate the ZIP file that you want to open on your hard drive.
Right-click the ZIP file to bring up the menu.
In the menu, go to 7-Zip and select Extract files.
Select the file location that you want to save the extracted files to. For instance, saving the file to your Desktop is recommended for easy access.
Click OK.
Finally, the files will be extracted to your saved location.
Now you should be able to successfully access your extracted files.
Watch the Video Tutorial on YouTube
Feedback: Questions and Comments on YouTube
Do you have any questions or comments about how to open ZIP Files on Windows?
Please leave your feedback on YouTube after watching the video tutorial on How to Open ZIP Files on Windows with 7-Zip.
Related Posts
More Computer Tutorials on Please PC