Are you having trouble with the black screen issue on OBS Studio?
It is a common complaint that people have when using the software. This tutorial will explain how to the fix black screen on OBS Studio after updating Windows.
About OBS Studio
The Open Broadcaster Software (OBS) is a popular open-source program for streaming and recording on your computer. It can be used with Windows, Mac, Linux, and other operating systems. For Windows users who update Windows often, it can often cause the black screen issue in OBS to reoccur.
To solve the problem, read the step-by-step tutorial outlined below.
For further clarification, check out the video tutorial at the bottom of the page.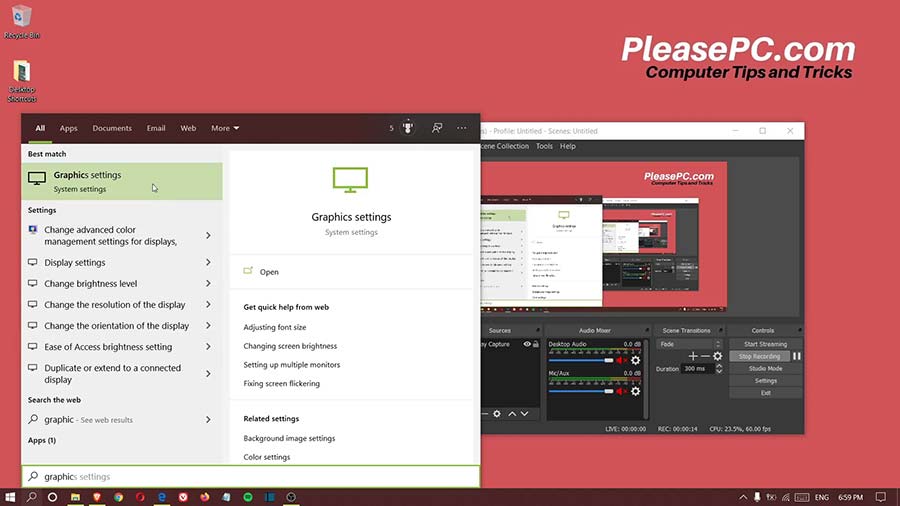 Tutorial: How to Fix Black Screen on OBS Studio
After updating Windows, if you see the black screen appear in OBS Studio, go to the taskbar search menu in Windows. Then, follow the quick steps below to fix the problem.
In the taskbar search menu, search for "graphics" to bring up the graphics settings.
Select Graphics settings in the search results.
Then, select Classic app from the drop down menu above it.
Next, browse for the obs64.exe file.
Go to the following directory: Program Files > obs-studio > bin > 64bit.
Finally, select the obs64.exe file and click Add.
Click on OBS Studio when it appears in the Graphics settings (just below the browse button).
Click the Options button.
Select the Power saving option.
Click Save to apply the new settings.
To finish up, close the Graphics setting window and run OBS Studio.
You may also need to check the settings options in OBS Studio too. Click the settings from the main interface, select Output from the left menu, and make sure that the Software encoder is selected for the recording output.
Now, next time you try to record something with the software, the black screen issue should be fixed. If you are still having problems, watch the video tutorial below or follow the links to read other OBS Studio tutorials.
Watch the Video Tutorial on YouTube
Feedback: Questions and Comments on YouTube
Do you have any questions or comments about how to fix the black screen on OBS Studio?
Please leave your feedback on YouTube after watching the video tutorial on How to Fix Black Screen on OBS Studio (after Windows Update).
Related Posts
More Computer Tutorials on Please PC